Place Dauphine is a public square on the western tip of the Île de la Cité.
The square was built in the early 17th century by King Henry IV. He named the square to honor his son, the Dauphin (heir to the French throne).
It is triangular and surrounded by 17th-century buildings constructed in a traditional French style, with mansard roofs and ornate facades.
Place Dauphine is also a popular spot for artists, who often set up their easels to paint the picturesque buildings and the Seine River.
Moreover, it is home to the Pont Neuf, the oldest bridge in Paris and one of the most iconic landmarks in the city.
No visit to Île de la Cité is complete without strolling through this stunning little plaza of Paris.
Although Place Dauphine is small, its unique size in the vast city adds charm.
The park benches surrounding the place are a great picnic spot for tourists to rest after exploring Île de la Cité.
Another advantage of this place is that it is sparsely populated, off the visitor's main route.
It is a serene place with several cafes and restaurants where visitors can stop and enjoy a delicious cup of coffee or tea.
Why is the Place Dauphine famous?
Place Dauphine is filled with classic Parisian buildings, historic art galleries and elegant cobblestone streets.
This square is a great place to relax and enjoy the sights and sounds of Paris and is a perfect spot to take in the city's beauty.
The Charming little plaza is between two famous attractions, Pont Neuf and the Palais De justice.
Place Dauphine restaurants and cafes offer gourmet coffee, fine wines and authentic Parisian fares, making it a tourist's favorite spot.
What to see in Place Dauphine
Here's a list of things to do in one of Paris's most stunning historic public squares.
Explore the surroundings
The pleasant setting and a hidden gem, Place Dauphine, offer some of the most splendid opportunities for sightseeing.
If you are traveling to Place dauphine from Pont Neuf, take some time off to visit the beautiful architecture of this attraction.
You can also witness the soothing views of the River Seine plus the appealing sights of the city from Place Dauphine.
Enjoy the Place Dauphine restaurants
One of the best features of Place Dauphine is the availability of cafes and restaurants on all sides.
Many Place Dauphine restaurants offer outdoor seating with views of the Seine River and the city, making it a perfect spot for a romantic dinner.
Also, you can enjoy authentic French cuisine after a tiring day of sightseeing in Paris.
A visit to Place Dauphine is an excellent way to get to know the Parisian lifestyle.
How to reach Place Dauphine
You can reach Place Dauphine by metro lines 4 or 7 to Île de la Cité or Pont Neuf and get to the square by walking for a few minutes from the station.
Buses are also one of the convenient ways to travel as Buses RAPT are available every 20 minutes directly from Luxembourg Palace to Place Dauphine.
Trains are the easiest way to reach the destination from Paris Airport, as you will find a train departing to Place Dauphine every five minutes from the train station.
Best time to visit Place Dauphine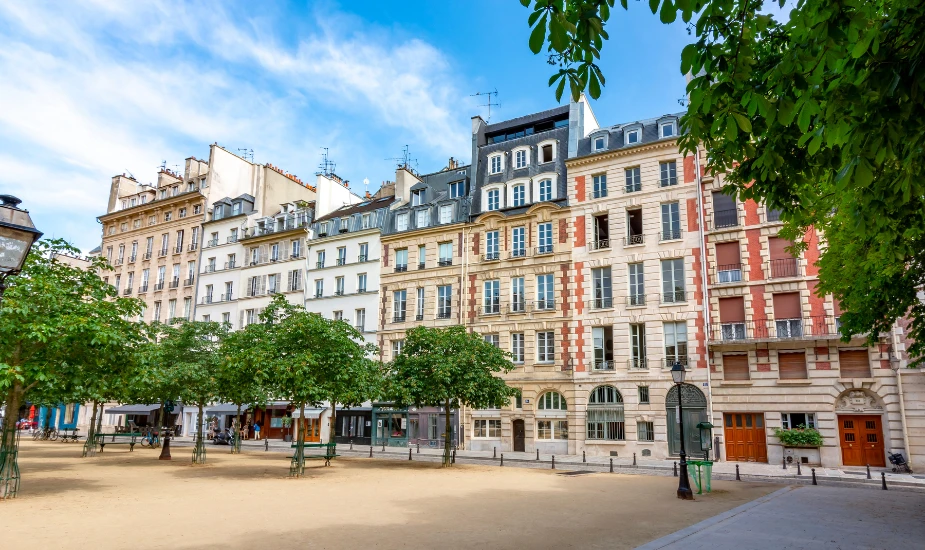 Paris's Place Dauphine remains open throughout the year, but the best times to visit are weekends and evenings.
The locals come together on weekends to play a fun game of Pétanque.
An aperitif (an alcoholic drink) is also available at every restaurant in the evenings.
So, book your tickets online and get ready to explore this place.
FAQs
Why is Place Dauphine famous?
Place Dauphine is famous; it was one of the earlier projects of Henri IV, completed in the year 1607.
It is also famous as its name comes after King Henri's son.
It was the second project involving public squares in Paris and was built right after Palace Royale, now knowns as Palace des Vosges.
When was Place Dauphine built?
Place Dauphine was built between 1607 and 1610 while Palace Royale was still under construction.
It was among the earlier city pl laid down by King Henri IV and after the completion of Pont Neuf, the monarch wanted to use the three acres on the underdeveloped land.
This vacant space belonged to the western side of Île de la Cité.
Why is it called Dauphine?
It is famous for being named after King Henri's son, Dauphine, who later became King Louis XIII.
Place Dauphine is at the tip of Île de la Cité under the command of King Henri IV, who is also present as an equestrian statute near Pont Neuf at Place Dauphine.
When can I visit Place Dauphine?
You can visit Place dauphine anytime, as it is open 24 hours.
The best time to visit the Square will be in the evening and on weekends when locals gather to play aperitif at a restaurant.
It is a fun yet competitive game of pétanque similar to British lawn bowling.
How can I get to place Dauphine quickly?
The fastest way to reach Place Dauphine will be by taking Metro 4 to 7 to Pont Neuf or Île de la Cité.
After getting down, you just need to walk for a few minutes to reach the Square.
Place Dauphine is east of Pont Neuf, making it the nearest station.
Why are restaurants in Place Dauphine so popular?
The Restaurant Paul in Place Dauphine is a famous spot for tourists as every evening and weekend, locals gather around in one restaurant for an aperitif.
Also, many restaurants extend their terraces in summer and spring so visitors can dine at Fresco under the chestnut tree, giving them a unique experience.
Do I have to book tickets to visit Place Dauphine?
No, the entrance to Place Dauphine is free.
But the best way to experience the Square will be through a private walking tour where you can learn its history and connect with its culture.
As visiting Place Dauphine takes little time, you can easily combine its visit with other attractions to explore Paris in every way.
Featured Image: Tripadvisor.in