Sainte Chapelle is most famous for its stained glass windows, depicting over 1,113 Bible scenes.
This chapel in Paris can be a marvelous and unforgettable experience, renowned for its stunning stained glass windows, intricate stone carvings, and rich historical significance.
Sainte Chapelle offers a feast for the senses, and to ensure you have a memorable experience, here are some tips for visiting Sainte Chapelle:
Book your Sainte Chapelle tickets online
This Chapelle is a popular tourist destination, so booking your tickets online is one of the tips for visiting Sainte Chapelle and a good way to avoid long lines.
You can combine this chapel with other attractions and visit them without buying extra tickets.
Also, purchasing a Paris museum pass will give you free access to Sainte Chapelle.
To gain deeper insights into the history, architecture, and symbolism of Sainte Chapelle, you can also consider joining a guided tour.
Professional guides can provide fascinating stories and explanations that enhance your understanding of this architectural gem.
| Category | Prices (€) | Tickets |
| --- | --- | --- |
| Skip the line tickets | €12 | Get it now! |
| Sainte Chapelle + Conciergerie | €19 | Get it now! |
| Île de la Cité, Seine Cruise and Sainte Chapelle | €71 | Get it now! |
| Notre Dame's Island with Sainte Chapelle and Marie Antoinette's prison | €51 | Get it now! |
| Sainte Chapelle + River Cruise | €29 | Get it now! |
Tips to time your visit wisely
Avoid visiting Sainte Chapelle during peak hours, as the small space within the chapel can get quite crowded.
Instead, aim for an early morning or late afternoon visit to avoid the crowds.
Another one of the best tips for visiting Sainte Chapelle is to visit the chapel on a sunny day to see the beautiful stained glass windows with sunlight streaming through them.
This chapel is open to the public from 9 am to 6 pm but remains closed on certain holidays, so it's good to check the Sainte-Chapelle hours before your visit.
Tips to avoid the rush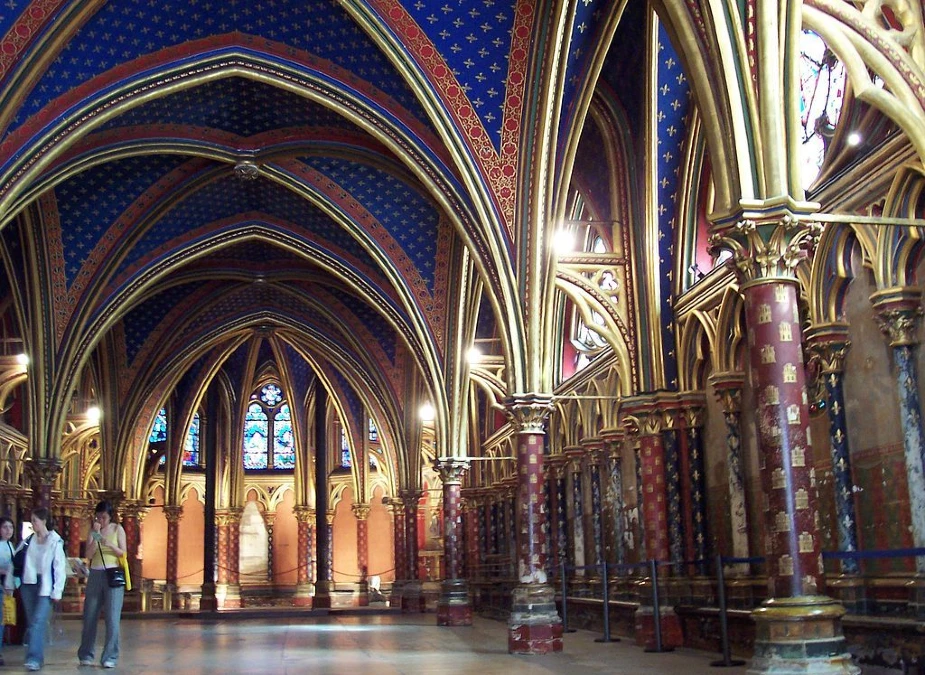 The Sainte-Chapelle is small but incredibly detailed, so take your time to explore and appreciate it.
Try figuring out the stories the stained glasses in the upper chapel windows depict.
For at least 45 minutes, look at the intricate stone carvings and beautiful stained glass windows.
Sainte Chapelle also consists of two levels- the lower chapel and the upper chapel.
While the lower chapel is designed simpler, the upper chapel is the highlight with its magnificent stained glass windows.
Hence, take the time to explore both levels and appreciate the unique characteristics of each.
The best time to visit Sainte Chapelle is early morning or late afternoon.
Photography Tip
Photography is permitted but can be challenging because of the darkness inside.
Additionally, tripods and flash photography are not allowed, as they can damage delicate stained glass.
You can take photographs to capture the beauty of Sainte Chapelle, but be mindful of any restrictions and avoid using flash photography.
Follow the dress code in Sainte Chapelle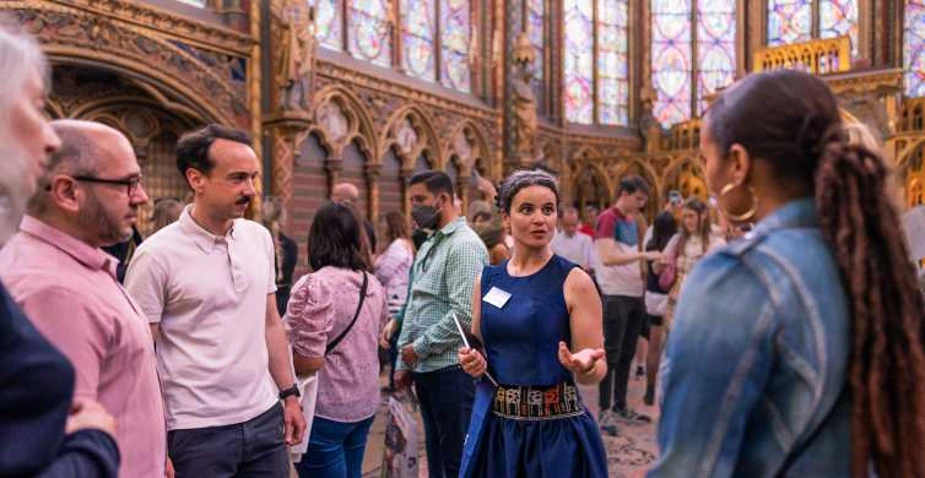 Visiting Sainte Chapelle does not have a dress code. However, it's a sacred place, and visitors are advised to wear modest attire.
We suggest you wear clothing that covers your shoulders and knees.
It is preferable to dress respectfully and not to hurt the feelings of others.
Remember that Sainte Chapelle is still an active place of worship.
Comfortable shoes are also recommended, as you will explore the chapel on foot.
It is important to maintain a respectful demeanor during your visit, avoid loud conversations, and be mindful of any ongoing religious services or ceremonies.
What not to wear at Sainte Chapelle?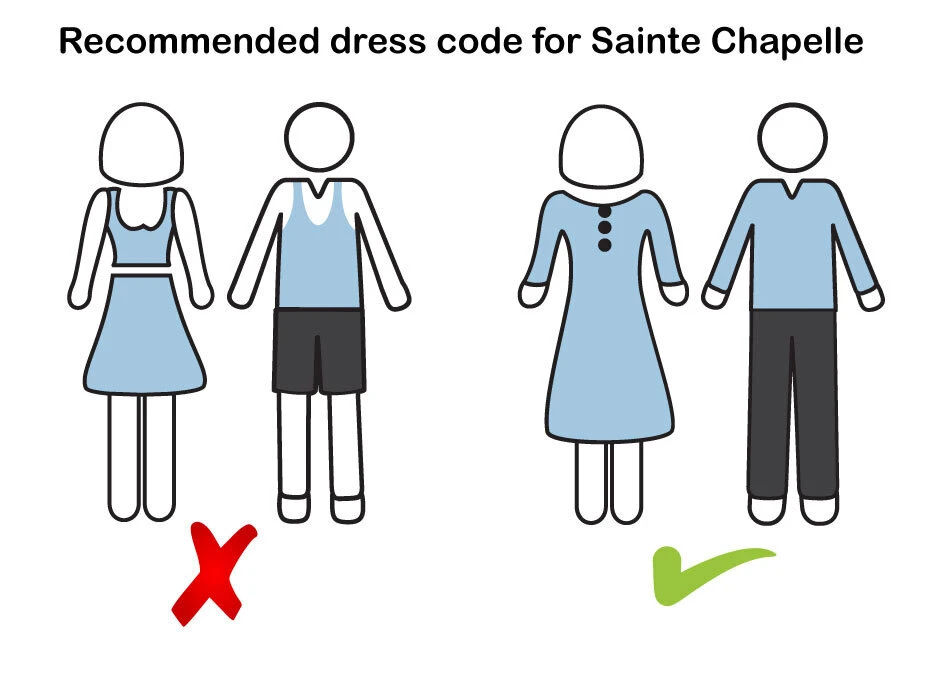 For women, we suggest you don't wear halter tops, short skirts, or low-cut t-shirts that reveal too much skin.
For men, it's advisable to avoid wearing hats, especially indoors or during formal events, as it is often considered impolite or inappropriate.
Additionally, it's best to refrain from wearing t-shirts with offensive or disrespectful words or phrases, like "I hate God" or "I am GOD!"
They can be offensive to others and create unnecessary tension or discomfort.
Adhering to these suggestions ensures that your attire aligns with social norms and displays respect for the occasion and the people around you.
💡Traveler's Tip

If you packed your backpack, keep the dressing guidelines in mind. Let's get you in!
The Sainte Chapelle skip-the-line ticket allows for guaranteed entry and avoids long lines at the ticket counter while saving time and money.

Book your tickets now!
Insider tourist tips for visiting Sainte Chapelle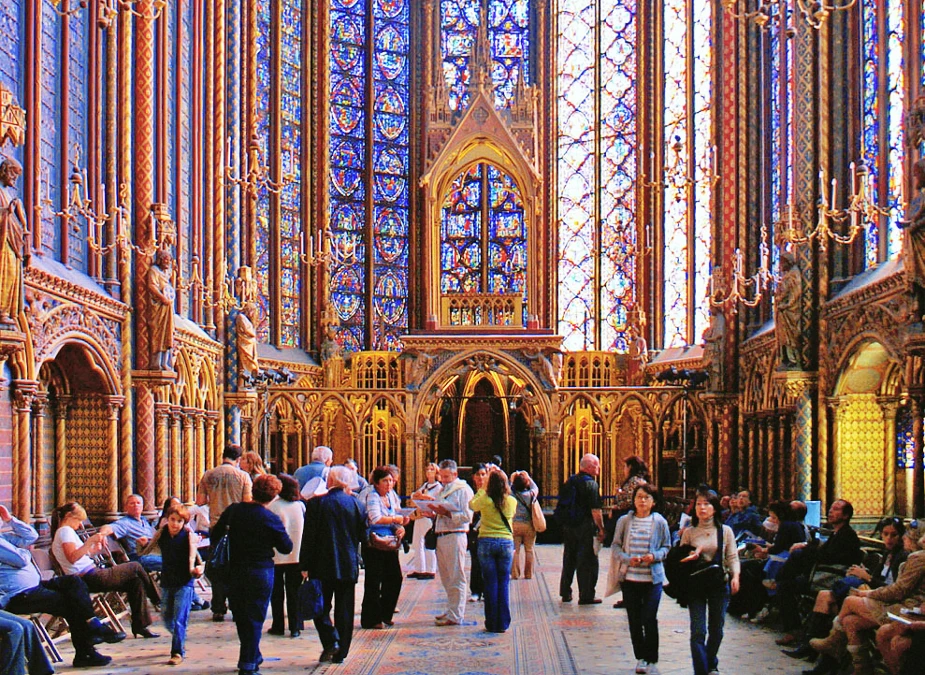 The famous Chapel can get crowded, and getting inside may seem almost impossible due to the vast lines of people outside.
So, purchasing the skip-the-line Sainte-Chapelle tickets to avoid standing in long queues to enter the Chapel and enjoy the tour is one of the best tips for visiting Sainte Chapelle.
Sainte Chapelle is near the Palais de Justice (Law Courts), which means the security is tight.
Do not carry any pointy things; leave your pocket knives, scissors, or other sharp objects in your accommodation.
Evening Sainte Chapelle concerts at the Chapel are conducted periodically and usually consist of classical hits.
It will be a memorable experience you can undertake in the beautiful setting of the chapel.
FAQs
Is there a dress code for Sainte Chapelle?
Sainte Chapelle is a secular building now, so there is no dress code for entering it.
However, as Chapelle has deep religious ties, wearing something more traditional while visiting it is advised.
The same should be followed when visiting the monument during one of its classical concerts.
What is the most suitable day to visit Sainte Chapelle?
One of the tips for visiting Sainte Chapelle is to go on a weekday for a great experience without much crowd.
Except for Thursdays when Sainte Chapelle remains unusually crowded.
Visiting it in the mornings is also a great time to explore the Building without any crowd.
Also, the first Sunday of every month allows you free entry inside Sainte Chapelle.
Is the Sainte Chapelle closed during the daytime?
Sainte Chapelle remains closed from 1 pm to 2:15 pm from Monday to Friday.
It is open daily from 9 am to 5 pm between October 1st and March 31st.
However, the timings change from April to September as the Chapelle remains open from 9 am to 7 pm. 
Does Sainte Chapelle have security checks?
Yes, as it is beside Palais de Justice, Sainte Chapelle has strict security checks at its entrance.
Our tip for visiting Sainte Chapelle is to refrain from bringing sharp objects or helmets, as the guards take no guarantee for your items once confiscated.
Also, make sure to carry your ID with you for your visit.
Can I visit Sainte Chapelle without a ticket?
You will need an admission ticket to enter the Chapelle.
Even free entrance access visitors must book a timeslot to visit the Building.
Adults must purchase skip the line Sainte-Chapelle tickets and book a timeslot to access the inside of Sainte Chapelle.
What is on the stained glass at Sainte-Chapelle?
Arranged across 15 pieces of glass and each window about 15 meters tall, the stained glasses of Sainte Chapelle depict 1,113 scenes from the Bible.
These scenes mainly belong to the Old and new testaments recounting the history of the world until the arrival of sacred relics in Paris.
When to visit Sainte Chapelle to avoid heavy crowds?
Visit it in the mornings to avoid heavy crowds and explore the Chapelle freely at your own pace.
Visiting it on weekdays, except for Thursdays, also gives you a crowd-free experience to observe Sainte Chapelle more intimately.
Also, you can visit it at night after attending classical concerts and wander around the building, taking the beautiful Sainte Chapelle architecture.
Are there any restrictions on photography inside Sainte Chapelle?
While photography is allowed inside Sainte Chapelle, flash photography and tripods are prohibited.
This ensures the preservation and protection of the delicate stained glass windows and other artifacts.
Book a Sainte Chapelle guided tour to see this beautiful Gothic architecture yourself.
Is Sainte Chapelle accessible for individuals with mobility impairments?
While efforts have been made to make Sainte Chapelle accessible to all, the historical nature of the building poses some challenges.
Some steps and narrow passageways may limit accessibility for individuals with mobility impairments.
However, an elevator is available to reach the Upper Chapel for visitors with limited mobility.
Can I bring the children to visit Sainte Chapelle?
Children are welcome to visit Sainte Chapelle.
It is a unique educational opportunity for them to appreciate art, history, and architecture.
However, it is important to supervise children and ensure they respect the chapel's peaceful atmosphere and fragile nature.
Are backpacks allowed in Sainte-Chapelle?
Guests are advised to carry light as storage facilities are not offered within Sainte Chappelle. 
A small backpack or a handbag will be allowed after scanning through the security point.
Can you wear shorts at St Chapelle?
As Sainte Chapelle is a religious site, it is recommended that guests adhere to a dress code that reflects respect for the sacred space.
It is advisable to avoid wearing shorts, tank tops, and similar clothing items that may be considered inappropriate for a religious setting.
Instead, guests are encouraged to wear modest and respectful attire when visiting Sainte Chapelle.
Featured Image: Heraldnet.com