India's UPI to be Used in France, Starting from Eiffel Tower
In a groundbreaking move, India's Unified Payments Interface (UPI) is set to make its mark on the global stage as it expands its reach to France.
It will revolutionize how tourists from India make payments while exploring the iconic Eiffel Tower and other attractions in Paris.
The Prime Minister of India, Shri Narendra Modi, recently announced that UPI will soon be available in France.
But what is UPI anyways?
The Unified Payments Interface (UPI) is an Indian payment system that allows users to make round-the-clock payments anytime and anywhere.

It is a technology for building digital payment apps based on IMPS with QR Scans & Pay merchants.

You can link your bank account for direct transfers of money without storing it in a "wallet" first.
With this announcement, Prime Minister Narendra Modi demonstrated India's ability to foster international partnerships and its dedication to digital payments.
This decision can potentially redefine cross-border transactions and completely alter how people send money across borders.
In 2022, the National Payments Corporation of India (NPCI), the umbrella organization that offers UPI services, signed an MOU with France's payment system Lyra.
NRI tourists and Indian students will enjoy this financial upgrade without worrying about conversion rates.
This revolutionary move was made to lower remittance costs between the two countries.
It was announced at La Seine Musicale, a performing arts center in Paris.
Seamless Transactions in Rupees
With the integration of UPI in France, Indian tourists can now bid farewell to the hassle of exchanging foreign currency or dealing with fluctuating exchange rates.
UPI enables them to make seamless transactions in Indian Rupees (INR), ensuring that they can enjoy their vacation without worrying about currency conversions.
This convenience not only saves time but also prevents unnecessary costs that may arise from traditional currency exchange processes.
The best part is that Indian visitors visiting Paris will also get benefits.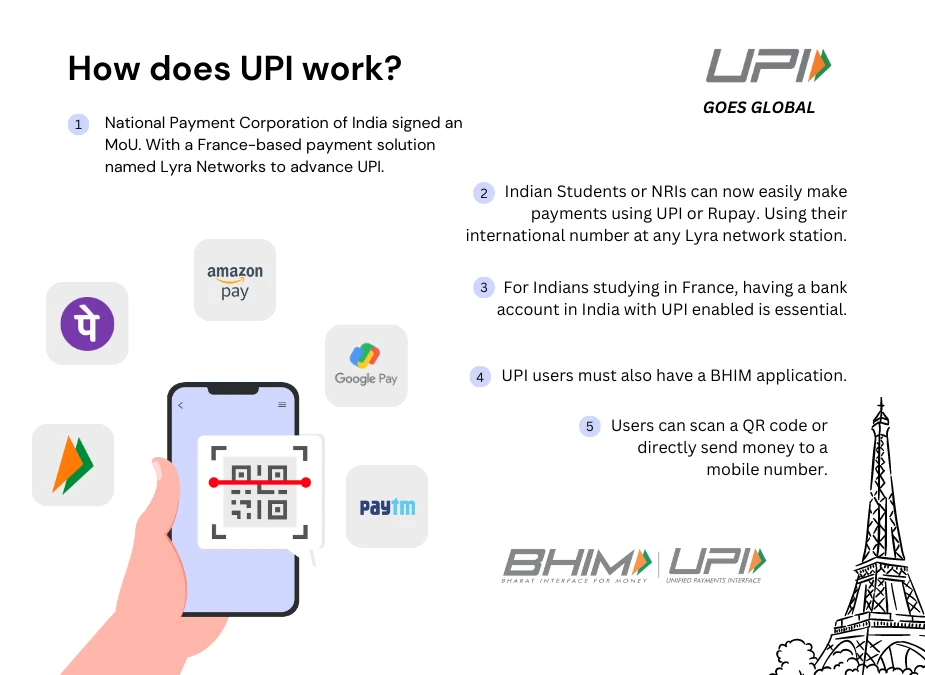 Steps of UPI Transactions in Paris: Eiffel Tower
IndianTourist->>EiffelTower: Ascend the Eiffel Tower

EiffelTower->>UPI: Request to Make Payment

UPI->>IndianTourist: Secure UPI Payment in INR

Note right of UPI: Multi-factor authentication\nensures security

IndianTourist–>>EiffelTower: Completes Payment

EiffelTower–>>IndianTourist: Enjoy the Experience
The Global Expansion of UPI
Besides France, UPI has expanded its global reach to include Singapore, Bhutan, Nepal, and The UAE.
This new digital payment mechanism is still in the works.
It will go live with the Eiffel Tower in Paris in September 2023.
After this, UPI can be accessed throughout Paris and its famous attractions with no extra foreign exchange rate.
Sainte Chapelle in Paris is no exception. It will be accessible via UPI, along with nearby attractions such as the Louvre Museum and the Seine River.
Grab the Sainte Chapelle tickets to enjoy the UPI transactions.
Benefits of UPI Payments in France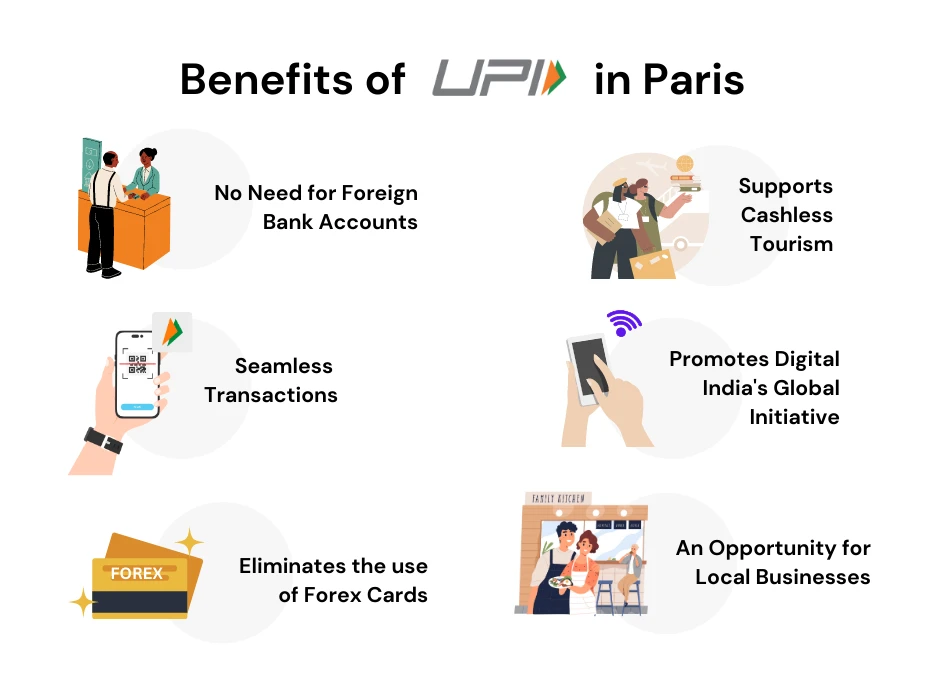 Here are some ways to benefit from this vast and revolutionary financial move between the two countries.
A Massive Relief for Travelers
Indian tourists can now transact rupees through local QR codes and UPI IDs without the stress of carrying foreign currency.
Using UPI in France will help users gain flexibility.
This will help them spend according to their needs instead of purchasing fixed amounts based on foreign currency.
Eliminates the use of Forex Cards
Foreign payments made by credit or debit cards often come with a foreign currency rate that reaches up to 3.5% of the transaction value.
Some banks offer forex cards with lower markup fees than credit cards to avoid these.
However, UPI will help you save a lot more than that.
The transaction will happen in rupees, eliminating the need for a foreign currency rate.
So if you are Indian and planning on buying tickets in Paris, you can easily forget about conversion rates with UPI in Paris.
Seamless Transactions with UPI in Paris
The transactions will become more seamless as the need for foreign currency disappears with UPI.
Indian tourists, or NRIs, no longer have to worry about foreign exchange rates, cards, or the trouble of carrying cash.
Also, if you buy a Sainte Chapelle ticket or even shop for a souvenir at the site, you can do it without any worries.
The Safe and Secure UPI Experience
Safety is paramount in today's digital landscape, and the UPI platform ensures a secure payment experience for Indian tourists in France.
The security measures for UPI transactions will remain the same.
There will be no changes, even with the cross-border transactions.
UPI payments internationally will carry on with the two-step authentication that includes a pin to maintain privacy.
Tourists can explore the beauty of France with confidence, knowing that their transactions are protected by cutting-edge security measures.
An Opportunity for Local Businesses
With UPI, local Businesses in France can attract Indian tourists.
This will be an excellent opportunity for the business to increase its customer base and profits.
Also, the add-on benefit of customer satisfaction that comes with it is a complete boon for businesses.
Don't worry; as payments are becoming easier, grab your Sainte Chapelle ticket to start your Paris trip.
Enhancing India-France Relations
The adoption of UPI in France fosters stronger economic ties between India and France, showcasing cooperation in the fintech sector.
With UPI in France, India is showcasing its technological prowess and digital innovation to the world.
Conclusion
In conclusion, the introduction of India's UPI in Paris is a game-changer in the realm of digital payments for tourists.
UPI sets a precedent for global financial transactions with seamless transactions in Rupees, enhanced security measures, and contactless payment options.
As Indian tourists explore the iconic Eiffel Tower and other enchanting destinations in France, they can do so with the confidence and convenience that UPI brings.
This historic collaboration between India and France paves the way for a more interconnected and digitally advanced world.
So, pack your bags and get on a journey to France, where UPI is ready to enhance your travel experience like never before!
FAQs
Does France accept UPI?
Yes, UPI is acceptable in France from September 2023, after its formal agreement last year.
Now people from both countries can send real-time money via QR code or exchange mobile numbers.
These UPI transactions will start their new journey at the iconic Eiffel Tower in Paris. 
How does UPI work in France?
With this new deal, Indian tourists and NRIs can now make rupee payments in France using UPI.
In 2022, the international part of the National Payments Corporation of India signed a Memorandum of Understanding (MoU).
This agreement was made between France's Lyra Network to accept UPI and Rupay there.
Which European countries accept UPI?
Currently, the Netherlands, Belgium, Luxembourg, and Switzerland are in talks with the NPCI for UPI transactions.
However, France became the first European country to use UPI and Rupay at its most famous attraction, the Eiffel Tower.
The National Payments Corporation of India has partnered with banks and payment companies in these countries.
Will I get to use UPI in Sainte Chapelle?
Yes, after the adoption of UPI in Paris. The transactions in Sainte Chapelle start in France in September 2023.
You can use the new Indian Digital payment system to dine, shop, and travel near Sainte Chapelle.
But this also depends on whether the nearby places are backed up by Lyra networks; otherwise, the UPI payments won't work.